Calls for Participation
Over the last months Shared Research Center Biorizon has been busy developing new routes to biobased aromatics and applying for innovation funds to secure its groundbreaking research. Currently Biorizon offers several opportunities for global leaders in the fields of feedstock, conversion, equipment and end products to participate in research concerning 'Sugars to Bio-aromatics'.
Currently Biorizon calls for participants in the following projects:
Project: 'Furanic intermediates & aromatic derivatives', in the Strategic Innovation Program 'Biorefinery for raw material availability and flexibility' of TNO-Wageningen UR Food & Biobased Research.
BIO-HArT project: 'Biorizon Innovation and Upscaling of Renewable Aromatics Technology'. (In Dutch: 'Biorizon Innovatie en Opschaling van Hernieuwbare Aromaten Technologie'.)
Outlook Horizon 3 'Sugars to Aromatics'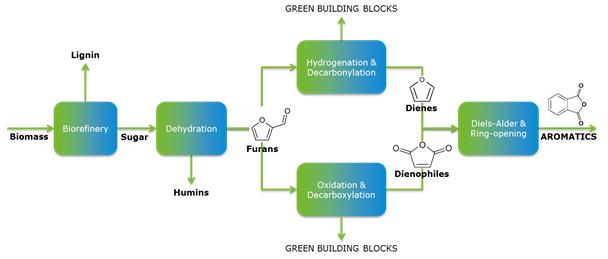 The figure above illustrates the technology of Biorizon's Horizon 3, which transforms carbohydrates from biomass into aromatic compounds through furanic intermediates. In the current projects (& -proposals), Biorizon aims to improve already well-performing chemistry for each of these processing blocks, to translate the obtained knowledge into scalable (continuous) process technology and to invest in bench-scale facilities (1-10 liter per hour throughput) in which the first steps of scale-up of these processes can be studied.​
In the near future Biorizon is expected to call for participants in projects concerning the:
development of new routes (increased atom-efficiency, improved yield, new aromatics) toward aromatic compounds;
development of chemistry toward dienophiles (acetylene/acrylate derivatives);
development of protocol that integrates diene production with Diels-Alder chemistry whilst minimizing the required DSP; and
development of derivatization chemistry on aromatics.
As such, Biorizon and partners obtain knowledge about efficient chemistry toward renewable aromatics and gain insight in scale-up principles of effective process technology. The combination of this knowledge with the experimental facilities at bench-scale ensures a smooth development trajectory toward implementation of bio-aromatics.
Do you want to receive in-depth information on the opportunities to participate in one or more of these projects concerning 'Sugars to Bio-aromatics'? Please contact Joop Groen.
Update Lignin to Bio-Aromatics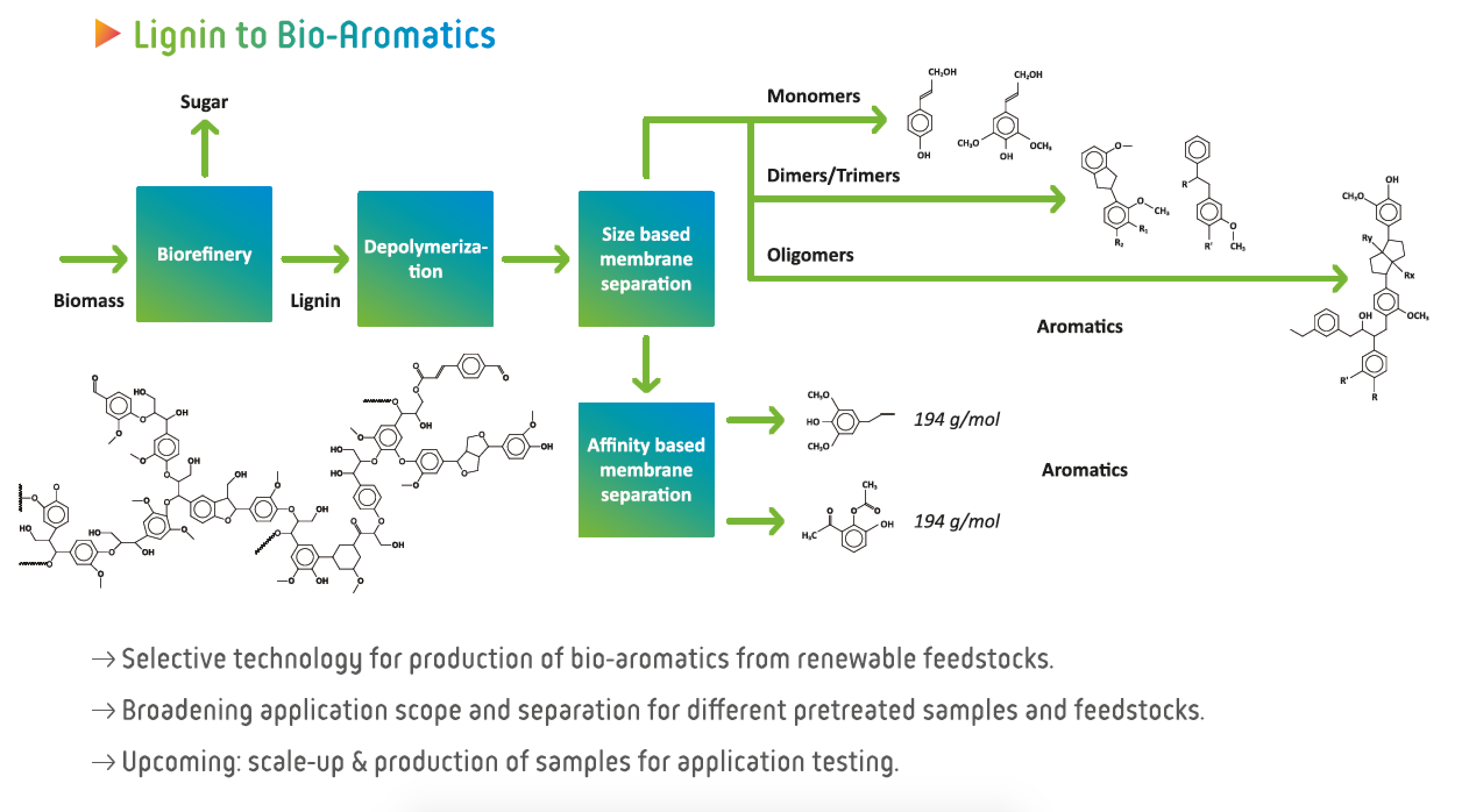 With the ARBOREF project from FISCH (Flanders Innovation Hub for Sustainable Chemistry), Biorizon aims to create new pathways for the valorization of áll major parts of lignocellulosic biomass (cellulose, hemicellulose and lignin) towards a set of carefully selected chemical platform molecules and aromatic building blocks by a 'lignin-first' biorefinery approach to fuel the aromatics market.
In case you're interested in the opportunities to participate in our projects concerning 'Lignin to Bio-aromatics' please contact Karolien Vanbroekhoven.
Biorizon Community Expert Groups
During the yearly event, Biorizon launched the concept of expert groups as a means of intensified interaction of Biorizon Community members with the R&D activities being carried out on the different topics.
Based on the various discussions during the event, we identified 3 topics relevant for such expert groups:
Business cases for value chains (for aromatics from biomass)
- Interact with different actors from along the value chainn.
- Learn more about the different projects and results on specific value chains.
- Detail the roadmap toward the first demonstration plant(s).
- Identify collaboration opportunities.
Bio-refineries and feedstock availability
- Acquire an overview on different global bio-refinery developments.
- Assess and concretize feedstock supply chains.
- Identify hurdles and solutions regarding feedstock availability.
New compounds, functionalities, toxicity and REACH
- Learn about the latest developments in structure-function relationships and predictability of functionality.
- Learn about new tools that (potentially) accelerate REACH implementation trajectories.
- Detail the roadmap toward implementation of new bio-aromatics with respect to REACH (besides technology and application development, which characteristics deserve careful attention from the onset, etc.)
Obviously, as the program progresses, other topics become relevant and will be subject of additional expert groups.
More information & Contact
Want to learn more about joining one of these expert groups? Please contact one of Biorizon's Business Development Managers:
Joop Groen, +31 (0)6 51 91 80 96 or joop.groen@tno.nl.
or
Karolien Vanbroekhoven, +32 (0) 493 51 42 70 or karolien.vanbroekhoven@vito.be.
Join the Biorizon Community
Please also note Biorizon's Community on functionalized biobased aromatics for partners and companies that want to consider joining our Shared Research Center.