Research
To assure the achievement of our mission - to enable commercial production of bio-aromatics by 2025 - Biorizon developed a roadmap with clear targets and milestones. This roadmap is based on several meetings with industry and partnering RTO's and on results from desk-studies, experiments and business case analyses.
Biorizon's R&D activities
The roadmap consists of 3 program lines, further referred to as "horizons". Each horizon starts with an R&D phase, in which the specific technology, to convert biomass into aromatics, is (further) developed. The R&D activities include:
early-stage laboratory research to establish proof-of-principle (TRL 1-2);
the design, construction and use of bench-scale process skids to deliver proof-of-concept (TRL 3-4) of critical components;
the (experimental) validation of the complete process through campaigns/runs in new or existing pilot infrastructure (TRL 5-6).
Once the R&D phase is completed, Biorizon aims to continue the development of the value chain through demonstration of the techno-economic viability of the technology at relevant scale.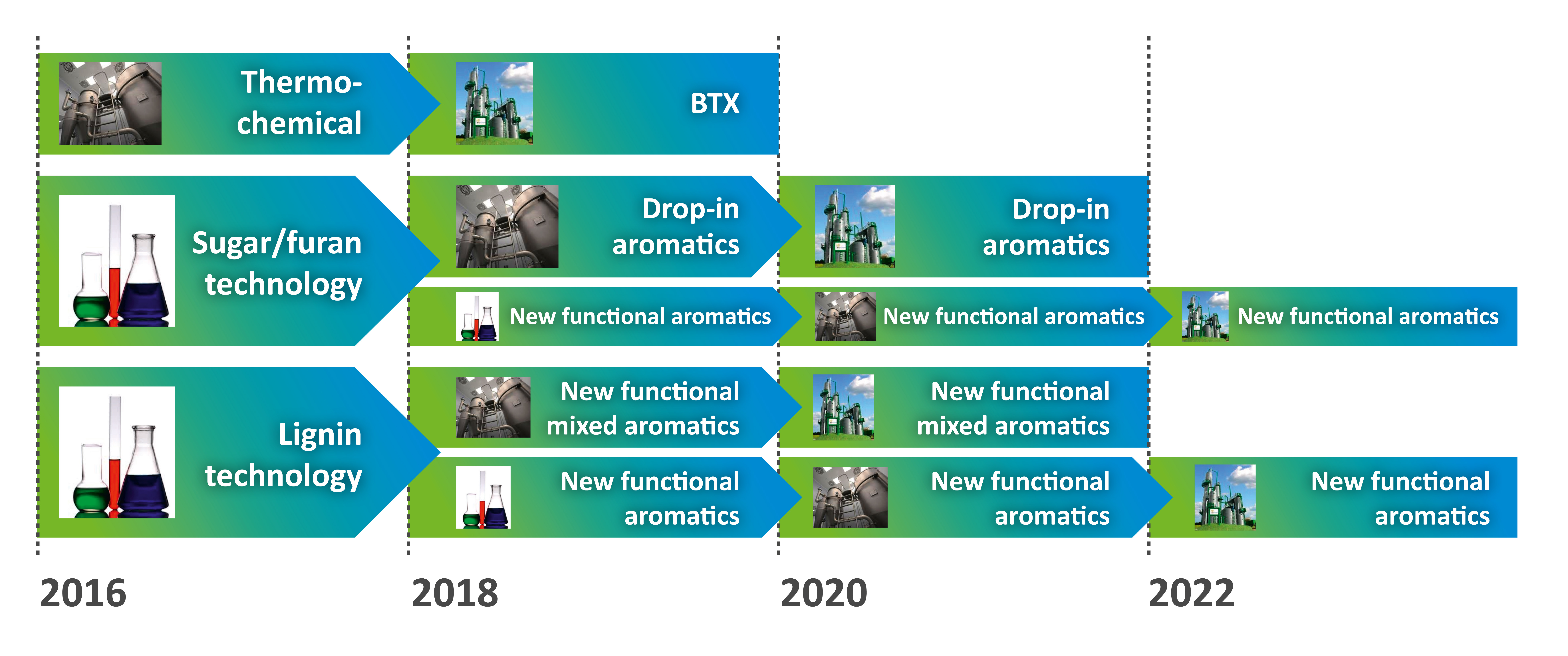 Biorizon's 3 Horizons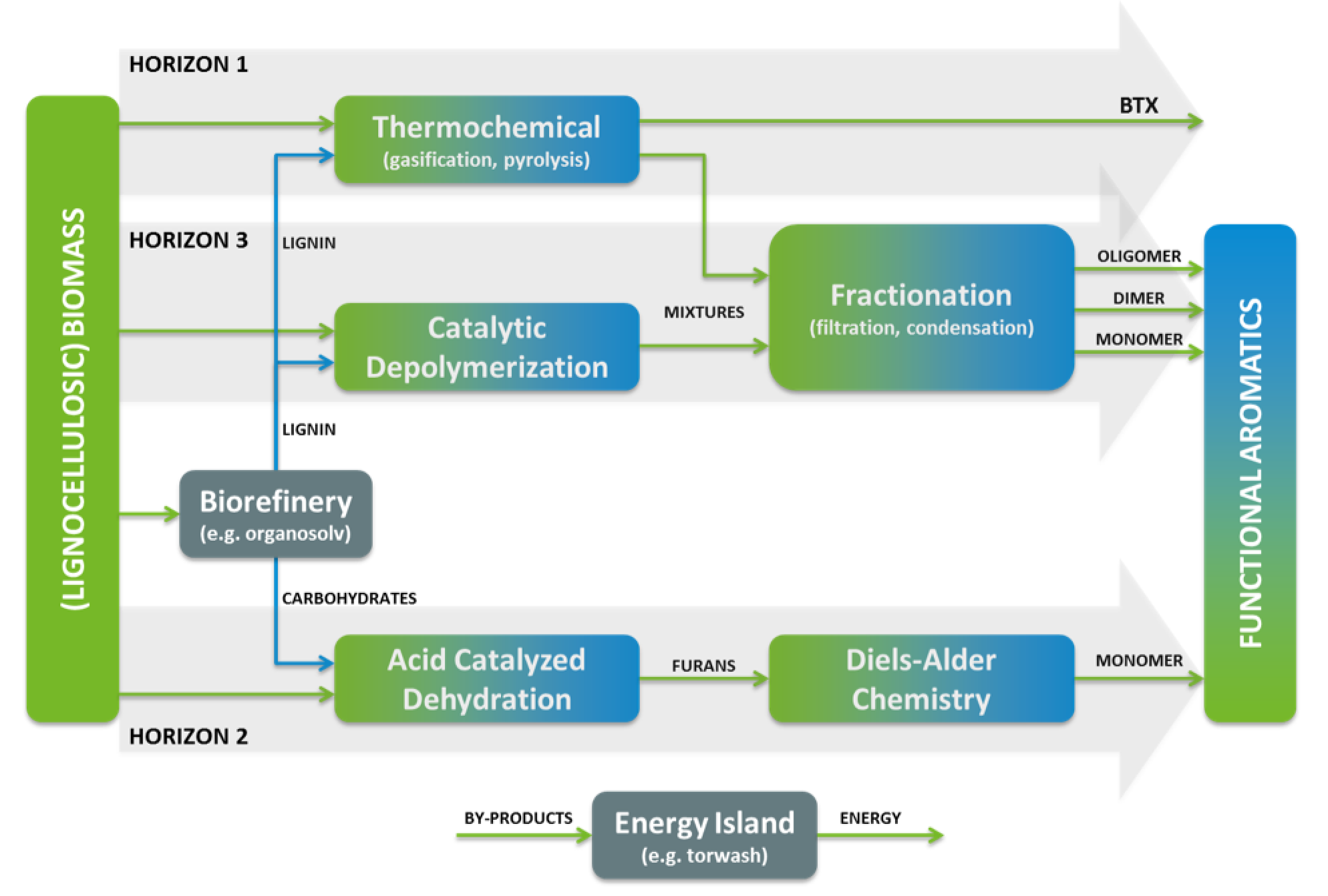 Three horizons in which (industrial) partners are invited to participate:
Thermo-chemical: focus on the development of (catalytic) thermo-chemical technologies (e.g. gasification, pyrolysis) for BTX production and production of functionalized aromatics from low-cost biomass and biomass fractions.
Sugar/furan: focus on the development of (bio-)chemical technologies toward functionalized drop-in (bulk) aromatics from sugar.
Lignin: focus on the development of (bio-)chemical technologies toward (mixtures of) functionalized aromatic compounds (oligomers, dimers, monomers) from lignin.
More in-depth information can be obtained by contacting us.
R&D Activities
Pathway design (selection of (bio-)chemistry) & assessment of IP landscape.
Business case analysis (techno-economic-ecologic assessments).
Conceptual Process Designs (selection of unit operations).
Experimental integration studies (lab, bench & pilot-scale).
Characterization of feedstocks & definition of appropriate balance between feedstock pretreatment & reaction efficiency;
Integration of conversion process with local biorefinery and/or bio-energy infrastructure (ease of valorization of residues, use of waste heat, etc.);
Improvement of (bio-)chemical reactions through catalyst screening & optimization;
Application of green chemistry principles for the development of efficient & sustainable processes (i.e. process intensification, water management, by-product valorization)
Evaluation of use of bio-aromatics in a diverse arena of applications.
Demonstration Activities
Detailed engineering, construction, commissioning, demo-runs.
Assessments: Techno-economic, LCC & LCA.
Final application development & market introduction.
Typical results for all program types
Roadmap
IP-mapping
Insight in business case
Report describing experimental results
IP portfolio
Process flow chart & detailed techno-economic viability assessment
LCA
Prototypes of equipment
Demonstrators at lab, pilot & demonstration-scale
Batches of product (100 gram, 1 kg, 10 kg, 100 kg)
Photography: SABIC Innovative Plastics Bergen op Zoom